VOLUNTEER APPLICATION PROCESS
Please note that on March 16 we paused volunteer activities in response to the COVID-19 pandemic. This situation is fluid and we may reactivate volunteers during this crisis to meet client needs, within the safety guidelines established by public health officials.
We have volunteer opportunities year-round for adult volunteer's ages 18 years and older; please review the list below to see how you would like to help. We ask for a minimum commitment of three months and most volunteers work one or two days per week for two to five hours per day.
For students ages 12-18, our volunteer opportunities are primarily during the summer months of June, July and August due to overlap between school hours and our hours of operation.
Adult Volunteers (18 and over)
Please review the list of Volunteer Opportunities below, fill out our Volunteer Application Form, and submit it via email, fax, or mail (contact information below). Please be as specific as possible with regard to your program preferences and time availability. We will confirm receipt of your application and then contact you when we have openings that match your interests and availability. (Please note recruitment for new volunteers is generally on hold from October through December, due to our busy holiday season.)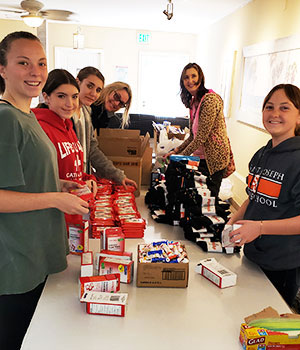 Community service opportunities for students 12-18 years of age are available during the summer months of June, July and August. Applications for Summer 2019 are now being accepted.  Please return completed applications by Monday, June 3, 2019.
For groups who want to support St. Joseph Center, we always welcome donation drives, especially for items noted on our Wishlist page, which are always in high demand at our Homeless Service Center and/or Food Pantry. Occasionally, we may also have opportunities for small groups of five to ten to volunteer together onsite. Please contact Volunteer Relations Manager Shelly Aydin at (310) 396-6468, ext. 326 for more information about drives and potential group opportunities.
E-Mail Address: volunteer@stjosephctr.org
Fax: 310-399-3040
Mailing Address: Shelly Aydin, Volunteer Relations Manager
St. Joseph Center
204 Hampton Drive
Venice, CA 90291-8633.
---
VOLUNTEER OPPORTUNITIES

FEATURED VOLUNTEER OPPORTUNITY:
TITLE: Communication Volunteer                                        LOCATION: Venice, CA
COMPENSATION: Volunteer Role                                        TIME FRAME: Fall 2019 (Negotiable)
ORGANIZATION MISSION AND SUMMARY:
St. Joseph Center's mission is to provide working poor families as well as homeless men, women, and children of all ages with the inner resources and tools to become productive, stable and self- supporting members of the community. Founded in 1976, St. Joseph Center is a 501(c)3 non-profit agency that meets individuals where they are to provide a holistic, wrap-around approach to services. Within the agency, there is street outreach teams, housing, and rapid re-housing programs, mental health services, a Food Pantry, a restaurant for homeless neighbors on Rose Ave, and job training programs. Our programs reach more than 10,000 people each year across LA County. To learn more, visit st.josephctr.org or find us on socials @stjosephctr.

POSITION SUMMARY:
St. Joseph Center's Development and Communications Department is seeking a highly motivated, creative, and dependable individual to support the Communications Manager. The key projects this intern will be responsible for include marketing campaigns, social media management, and content creation (especially video).
VOLUNTEER RESPONSIBILITIES:
• Collaborate with Communications Manager to create and execute marketing timelines   surrounding fundraising campaigns, program spotlights, and homeless issues/non-profit trends
• Interview and craft client stories to be used across socials, e-mails, and media outlets
• Produce videos of clients and program events to highlight on social media and e-mails
• Maintain social media pages and collect weekly analytics to improve impressions
• Work with Development to assist in the peer-to-peer fundraising campaign for Giving Tuesday
QUALIFICATIONS:
• Excellent written and oral communication and interpersonal skills
• Understanding of the basic principles of social media marketing and PR
• Ability to think creatively – following trends in the digital landscape
• Ability to work well independently, and within a team
• Must have video editing knowledge (i.e. cutting short video content for social posts)
• Previous internship or related experience in marketing or communications is a plus
TO APPLY:
Send cover letter, resume, and two examples of marketing campaigns that inspire you to
Karalee Ensign at kensign@stjosephctr.org.
OTHER VOLUNTEER OPPORTUNITIES:
Bread & Roses Café: (Monday through Friday – 8:30 am – 1:00 pm)
This program serves nutritious, hot meals to men and women who are homeless in a restaurant-style setting. Volunteers should be prepared to remain for the entire morning shift.
Volunteer duties include: setting tables, preparing beverages, fruit and bread for the meal, greeting and serving guests, and preparing for the next serving time.
Ideal for consistent weekly volunteers, groups of up to four people, and for students 12 and older during summer.
Homeless Service Center: (Volunteer Shift: 8:00 am – 12:00 pm, M-F)

Our Homeless Service Center connects homeless individuals and families with services, housing, and case management. We provide laundry facilities, showers, mailboxes and assistance with registering to receive hot meals at Bread & Roses Cafe.
Volunteer duties include: assisting homeless clients with making appointments for services (laundry, showers, meals, etc.), sorting mail, and providing other assistance as needed.
Requirements include being able to stand for long periods, alphabetize mail, greet clients, etc.
Ideal for consistent weekly volunteers
Food Pantry: (Mon, Wed, Thur: 9:30 am – 12:30 pm;Tues & Fri: 12:30 pm – 3:30 pm)
This program provides low-income households with supplemental groceries up to once per week.
Duties include assisting Food Pantry clients in selecting their groceries, checking clients in at the front desk, assisting clients in transporting groceries to their cars, and helping to keep the Food Pantry clean and organized.
Bilingual abilities in Spanish or Russian are very helpful.
Ideal for weekly volunteers, groups of up to 4 people, and for students age 12 and older during summer.
Codetalk: (Mon, Tues, Thurs, Fri: 12 pm – 1:00 pm (tutoring); Friday: 9:00 am – 12:00 pm (speakers))
This program provides low-income women with computer coding skills that will help them become employed in the tech sector.
Volunteer duties include: assisting students as a web development tutor Mon., Tues., Thur., or Fri., from noon to 1 pm; serving as a guest speaker on a designated Friday. For more information about guest speaking opportunities please email codetalk@stjosephctr.org.
Ideal for tech professionals and individuals with well-developed coding skills.
Administrative Support: (Monday – Friday: 9:00 am – 5:00 pm)
Volunteers will help in various St. Joseph Center departments with duties such as filing, making copies or helping with large mailings.
Special Events: (Times and Days Vary)

"Voices of Hope" Dinner Dance and Auctions Gala Duties: assist by soliciting auction items, gift certificates and ads for the program journal.
Other Special Events are held at various times of the year; please inquire for current opportunities: volunteer@stjosephctr.org
Annual Holiday Opportunities: Thanksgiving Basket Distribution (November), Adopt-A-Family Program and Holiday Parties for clients (December). Ideal for individuals and groups of up to 10 volunteers.