Feed yourself and feed someone in need. For every meal ordered from APL Restaurant in Hollywood for takeout or curbside pickup, the steakhouse will donate the same meal to someone at the St. Joseph Center in Venice, a non-profit that provides support to homeless families and individuals and others in need.The meal-matching program is a joint effort between APL chef-restaurateur Adam Perry Land and his buddy Jimmy Kimmel.
APL's takeout is fairly affordable and casual, more inline with the barbecue offerings the restaurant does for lunch than its steakhouse dinners. There are chili dogs, pulled pork sandwiches, BBQ brisket, fried chicken and fried pork chops. But, If you're looking to splurge (and get a steak for someone at the St. Joseph Center), there is a $42 NY Strip.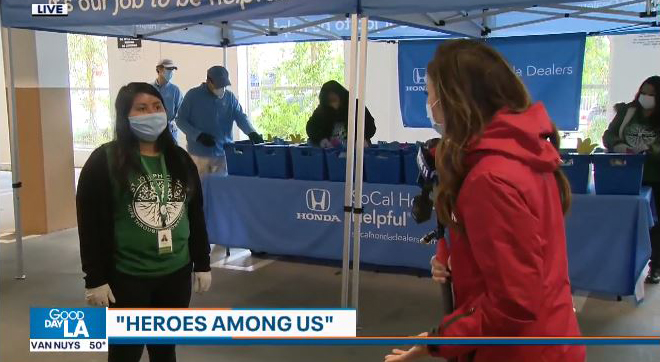 – Helpful Honda is doing its part to deliver goods to seniors who need it the most.
It's a collaborative effort with the St. Joseph Center who works to create "hope through empowerment."
Blanca Lopez, a Case Manager with the St. Joseph Center said she's grateful that Helpful Honda has stepped up the help her cause.
Together, they have been able to deliver baskets to Southern California seniors with items ranging from toilet paper to milk.
"They're always looking out for us," a recipient said. "It's been hard because the stores have been crowded with long lines."
Helpful Honda is also assisting local businesses by purchasing items from them. Fresh fruits, masks, and products included in the baskets are purchased from local restaurants.
Do you know of a person or company that is going above and beyond to help others during this time? We want to hear from you, submit your nomination here.
« First
‹ Previous
1
4
5
6